Aftermath of Hurricane Andrew - images from the Bahamas, 1992.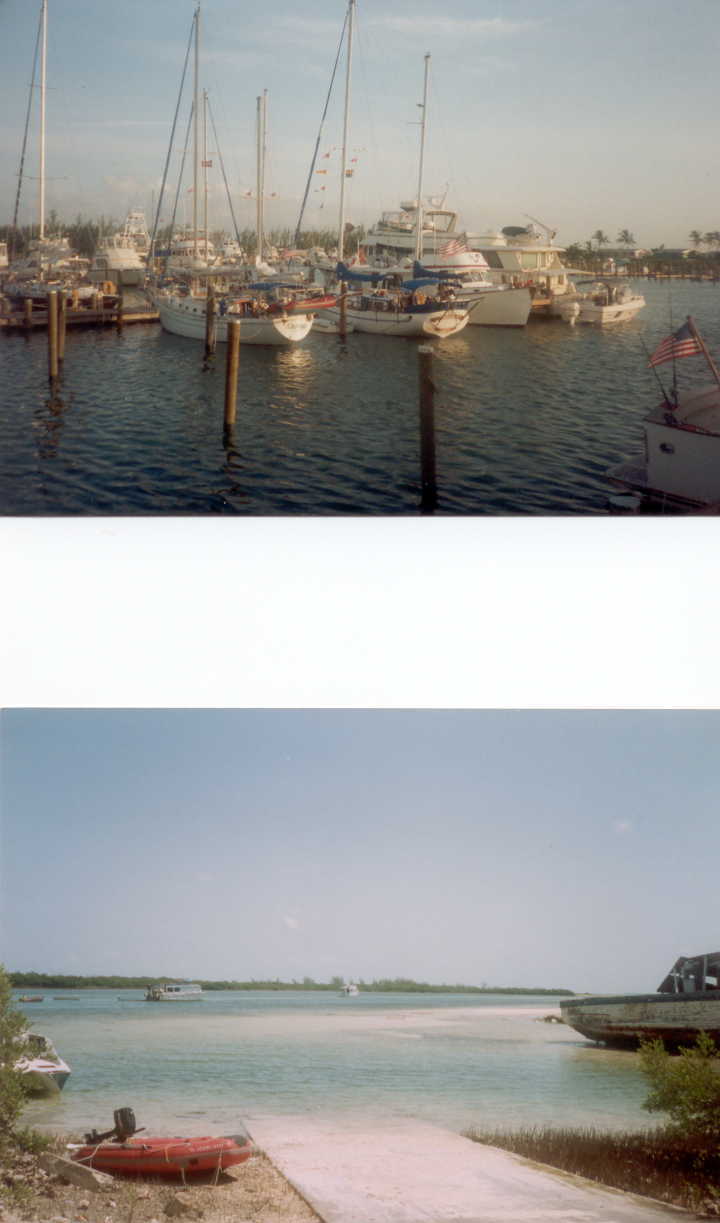 The above two photos are of Chub Cay before the storm. Shown first is the yacht club basin and above is Mamma Rhoda Channel, with portions of the wreck of the Motor Fishing Vessel "Andros" showing to the right. This old wreck, which I loved and photographed for years, was wiped clean out of the channel by the storm and never seen again.
<>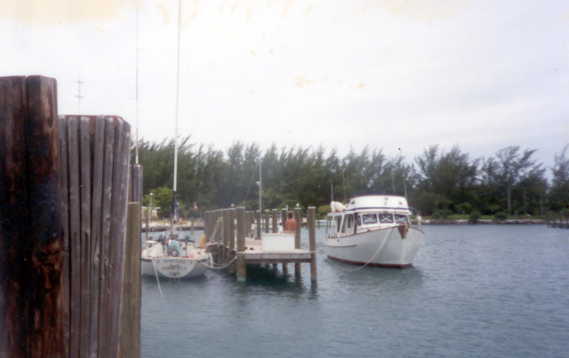 Three anchors holding off the dock…. This is a before picture.
<>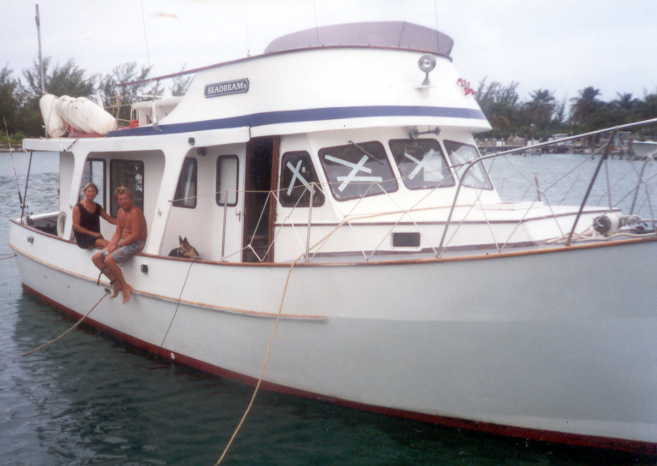 Shore power and cable TV still coming aboard, windows taped…Before picture.
<>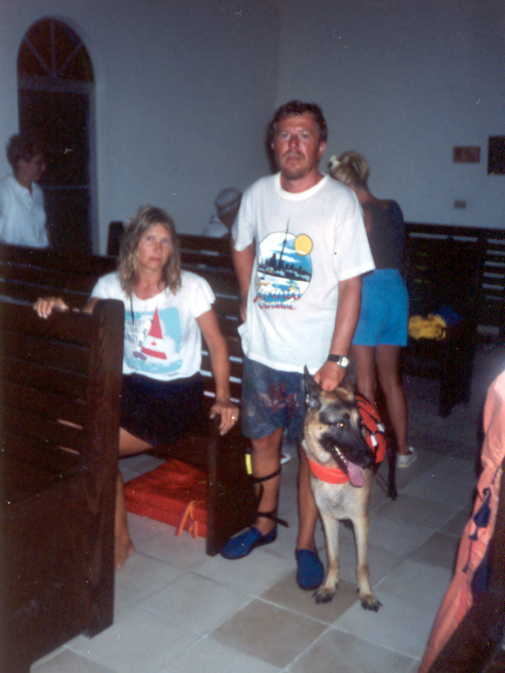 Our crew waiting for something wicked coming.
<>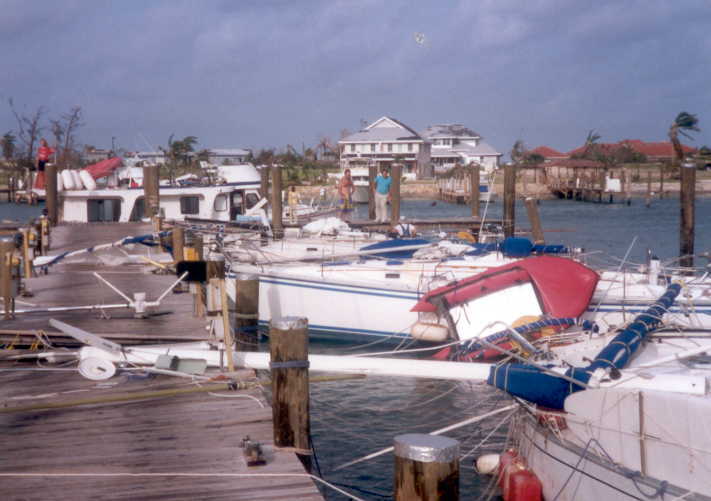 After picture…
<>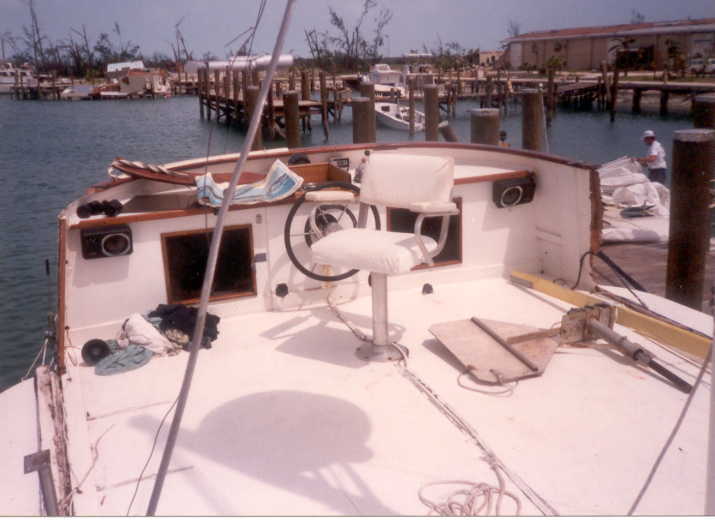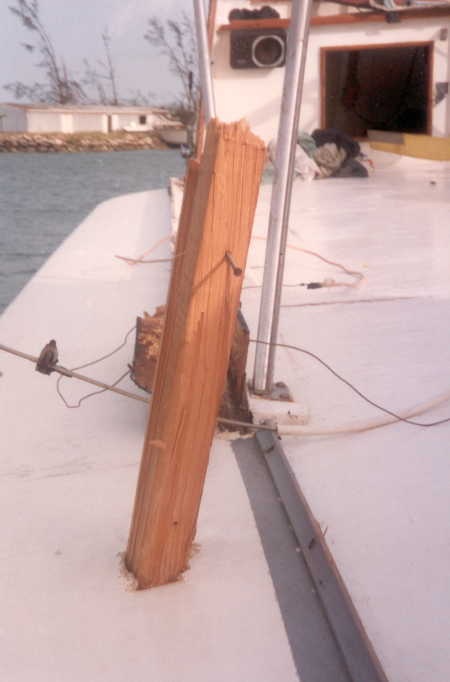 The 4x4 lumber with the nail in it is not supposed to be part of our boat. Penetrated very well however…
<>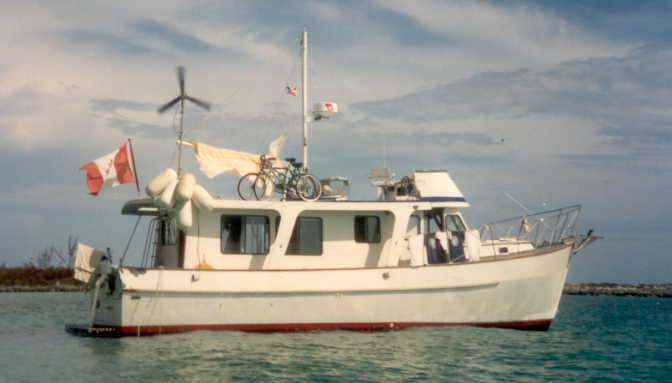 Out on the hook, trying to dry things out and scrub the salt and sand out of the boat.
<>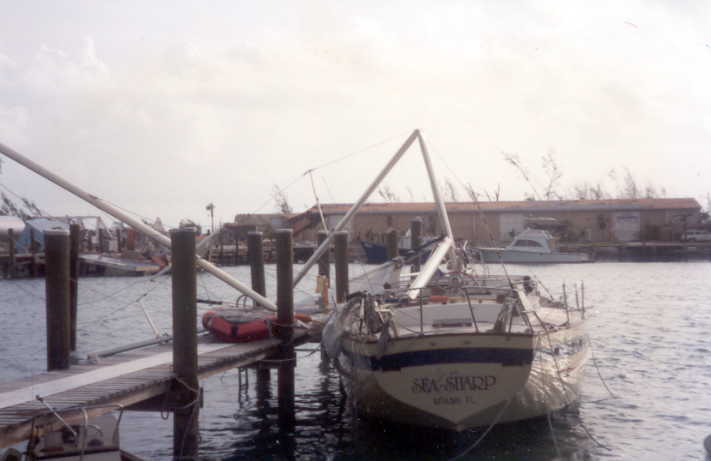 <>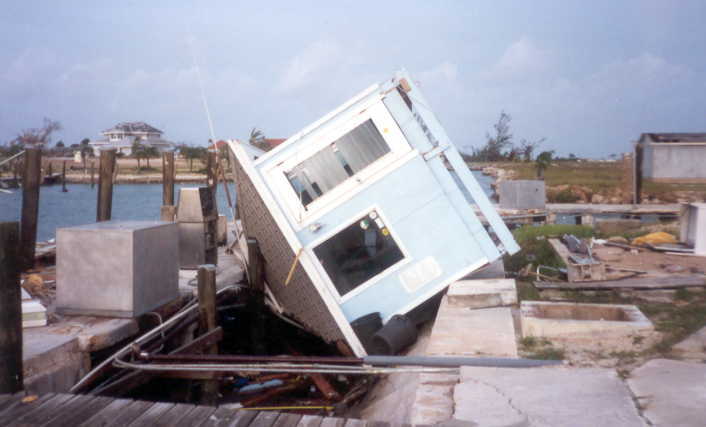 Dockmaster's office.
<>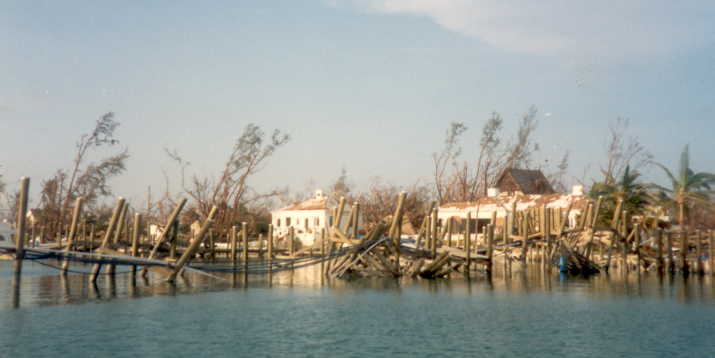 <>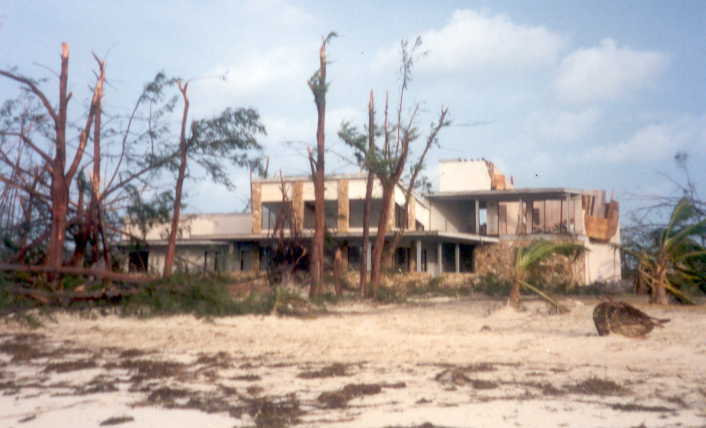 <>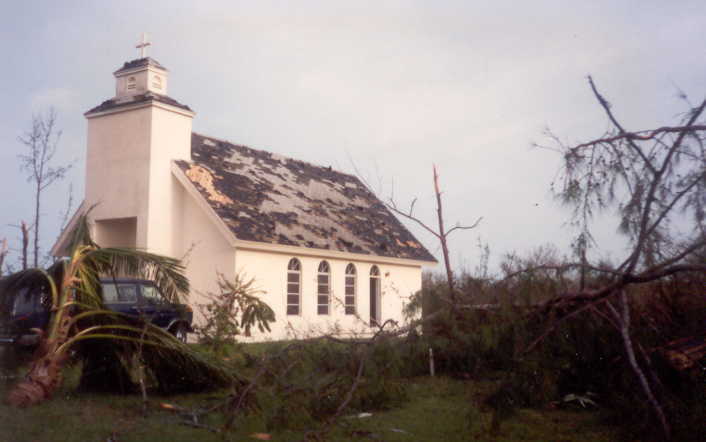 Our Chapel of Refuge.
<>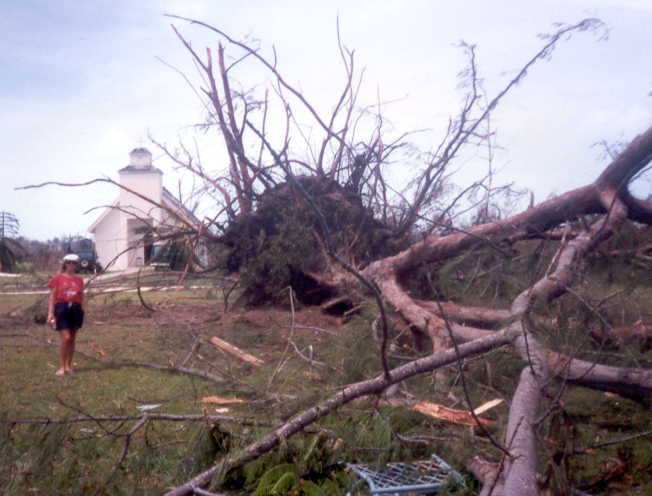 <>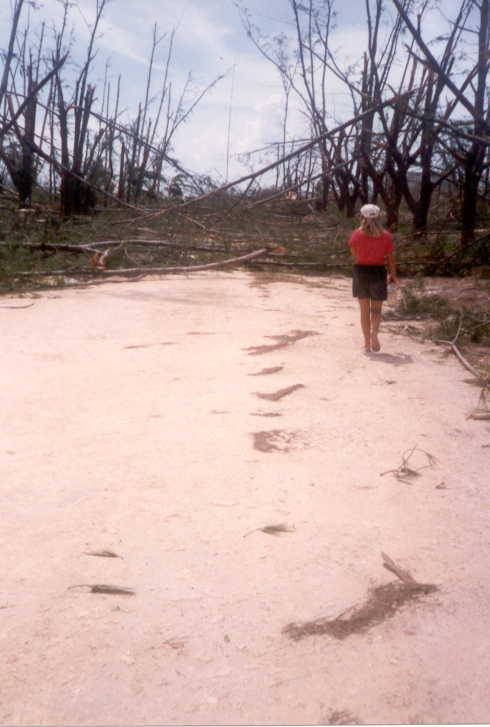 The road to the club from the airport.
<>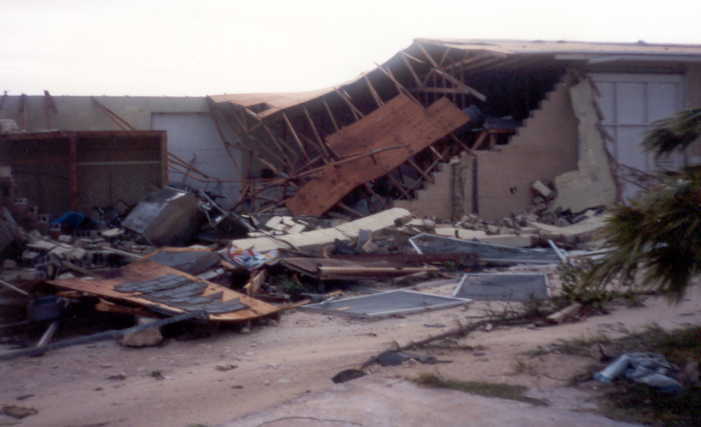 <>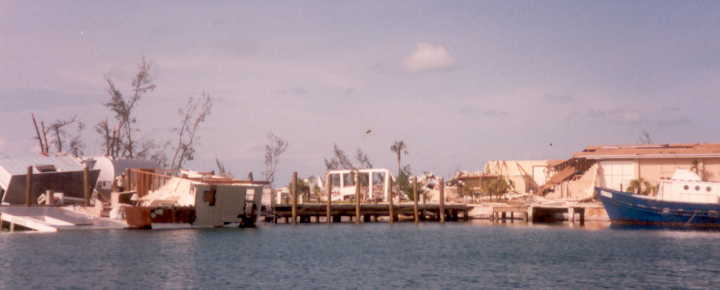 <>

Notice the little blue shack to the right of the fallen concrete storage building? It's still standing…
<>
The following photos were not taken at Chub Cay / other locations a day or two after the storm.
The only boat left at Cat Cay Club during the storm.
Note the piling through the bottom, as it was pulled up from the seabed and came ashore with the boat.
<>
Look at all that roller furling. No wonder they're all piled up…A lot of these were charter boats…The exiting "guests" tie a few lines as if just an other day in paradise, and fly out of town and away from the storm.
Hatchet Bay.
Very familiar to us, as it was one of our favorite places on Eleuthera, and we've known locals there for some time.
I thought about heading for Hatchet Bay when Andrew became an unavoidable threat, but elected against it. That decision, which was not based on any experience in regards to cruising in hurricane season on my part, but rather the gut feeling that being around less boats was better, saved our asses.
Some 300 boats were lost. Mostly cruising vessels, but also a large number of local commercial craft, from all over Eleuthera, the Exumas and New Providence.
Even the US Navy thought the bay would make a good hurricane hole. (They actually created it, by blasting access from the Banks to an existing landlocked lake, in order to provide shelter for the support boats working the signaturing of the Nato subs…I think this has been de-classified…)
<>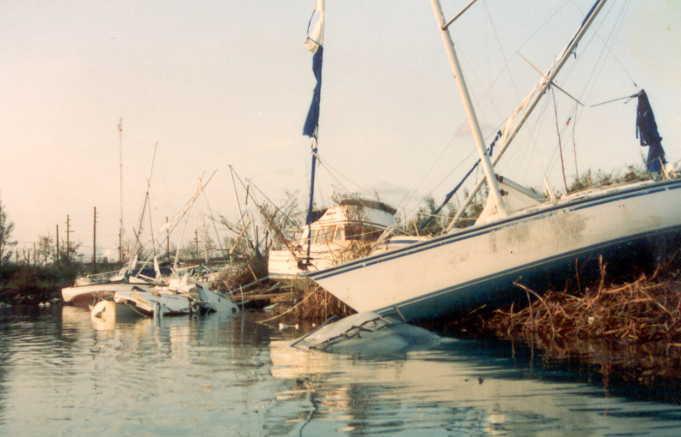 Also Hatchet Bay
<>
Local man Porkchops' once very nice Chris Craft Roamer in Hatchet Bay. At least she's steel…

All Images Copyright of Joseph Berta & Associates, L.L.C., 2002