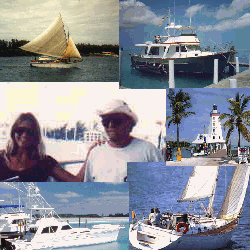 2011 marked the twenty year anniversary of our cruise south from the Great Lakes aboard Seadream IV.
Hurricanes and time have taken their toll on the magnetic tapes that we originally recorded on but in 2005, thanks to computers, I managed to compile some of what had survived into a two part DVD.
Chapter 1 is interesting because it provides a glimpse into a cruising world that was much freer and more so taken for granted in those prior to 911 days; wide open naval presence we never thought not to film in Norfolk and then we nonchalantly roll the camera over an oncoming nuclear submarine passing on one whistle a stone throw away. Well, you can't do that today, among other things…..
Chapter 2 has the more down-south taste and I consider it a tribute to my father for planting the boating bug, to Captain David May for inspiring me to stay on the water for a lifetime, to Jimmy Buffett for the musical accompaniment and most of all to Wendy for being there.
Some more recent images are among the stills rolling at the end of chapter 2.

Copyright © CruisingDog Productions – All Rights Reserved